My dear lovelies,
First I would like to say thank you for all the lovely comments that you left me and the most amazing "good lucks" that you wished me in the last post!!!
It means so much and it helped a lot!
Also a lot of you asked for the nail polish colour in my last post and that hot pink colour is by China Glaze, called Voltage Pink :) You can get it in Sally's in UK and in Aleksandar in Serbia.... if you click
HERE
you will find their link
I was so surprised when I noticed on Blogloving that I have more than 1000 followers. I cannot even describe how happy I was a GRATEFUL most of all to YOU guys...SO I decided its time to do a giveaway. One of my beautiful followers will get next prize:
Rimmel Eyeshadow palette together with some number 7 mascara,and few bits that I might just decide to add in :)))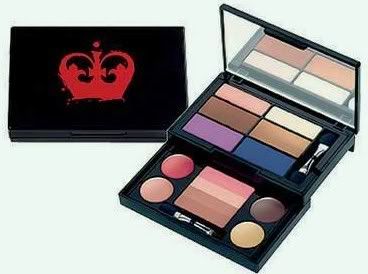 Palette has 6 eye shadows, 1 powder-blush and 4 lip glosses
And the mascara is No7s signature
THE RULES ARE:
-Must be a subscriber on Google friend connect
-Write a comment saying enter me (and email address)
-If you are not 18 must have permit of parents/guardian
-Its available world-wide :)
I will close this contest and announce a winner in ONE WEEK TIME, which is on 18th of June!
GOOD LUCK EVERYONE
Loads of Love
Tamara xoxo